The Brook's Difference
Brooks Body Shop's Co-Owners Tim Harris and Dan Petker have been in collision repair for over 30 years. They have assembled a staff of collision technicians that is second to none. We give lifetime guarantee on all of our repairs. We are the #1 rated shop in the area by the Better Business Bureau.
Warranty
Brooks Body Shop stands behind our work. We offer a lifetime limited warranty on all of our repairs. Customers will receive an easy to understand brochure to answer all warranty questions.
Certified Technicians
We at Brooks Body Shop like to boast that we have the best; most experienced, and highly trained staff in the area. From our I-CAR certified body techs, to our PPG Master Paint techs. Our ability to repair your vehicle to pre-accident condition is unmatched.
Insurance Claims
The office staff at Brooks Body Shop has the experience to make all insurance claims easy and hassle free. With over 30 years experience in handling claims, we at Brooks feel very confident that we can make your claim process pleasant, and more importantly, stress free.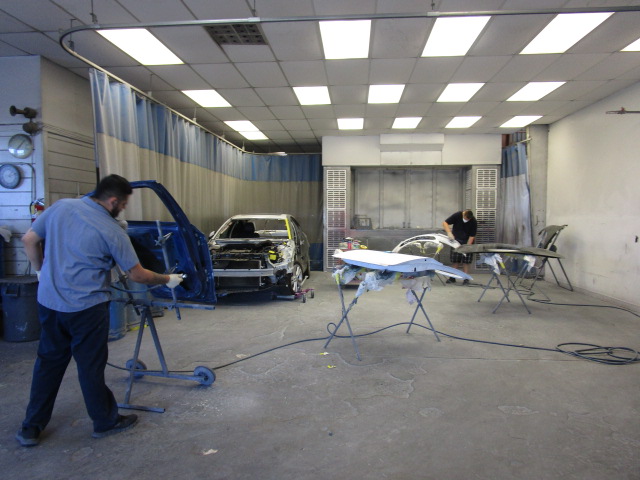 Our certified technicians in the body shop.
Frequently Asked Questions
Will my Insurance Co. pay for my claim even if I don't take it to their shop?
Yes they will. We have over 20 years of experience handling claims.
How do I know a quality shop?
A quality shop should have 4 things that you look for.
Longevity in the area
Better business standing
Qualified and experienced technicians
Quality of equipment and materials
Can I take my car anywhere I want to get repaired?
You decide where you want to get your car repaired. You do not have to go to an insurance preferred shop.
Who does the paperwork?
We do! All you need is a claim number, and we will take it from there.